Drain Cleaning in Gilbert, AZ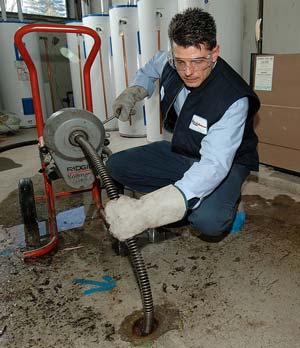 Drain cleaning doesn't have to be an ordeal.

Our Gilbert drain clog repair team works quickly and efficiently, without damaging your pipes, and without leaving a mess. We go the extra mile to offer truly superior customer service whenever possible, and that means responding just a little bit faster, working a little bit harder, and cleaning up after ourselves just a little bit better than anyone else.

Our team has the experience and tools necessary to handle a wide variety of drain cleaning jobs, including virtually every residential, commercial, and industrial drain cleaning need.

To learn more about the particulars of our drain cleaning services, or to schedule a service, give our Gilbert AZ drain cleaning team a call today.

Never Pour a Liquid Cleaner Down Your Drain
Drain pipes are built to take a beating, but even the best pipes don't last forever. While most of them can put up with a tremendous amount of abuse from pressure clogs and sediment, abrasive and corrosive chemicals are another thing entirely. Liquid drain cleaners are particularly damaging, especially when it comes to older pipes, and will only lead to faster pipe repair and replacement. In short, don't do it!
Plungers Aren't Just For Toilets
If you have drains that are prone to blockages, other than your toilet drains, a plunger can still come in handy. If you're squeamish about contamination, we recommended keeping a second plunger around for your other drains. While a master plunger, which looks sort of like an accordion, works best for most toilets, a bell type plunger often does a better job on your other drains.
We Only Use the Best Drain Cleaning Equipment

We don't just use one dedicated piece of equipment for all our drain cleaning jobs.

We have a small arsenal of drain cleaning equipment, including plungers, snakes, and augurs, which can knock out of the majority of drain clogs.
For tougher jobs, and jobs in commercial plumbing systems, we'll often bring the heavy artillery: the hydro-jets.
No matter what kind of equipment your drain cleaning job needs, we've got it ready to go. Call in our Gilbert AZ drain cleaning team and your job is done.